Definition
"Ecolabelling" is a voluntary method of environmental performance certification and labelling that is practised around the world. An ecolabel identifies products or services proven environmentally preferable overall, within a specific product or service category.
Center for Environmental Certification and Labeling in the All Ukraine NGO "Livinh Planet" is one of the members Global Ecolabelling Network, operate some of the world's strongest ecolabels Type I.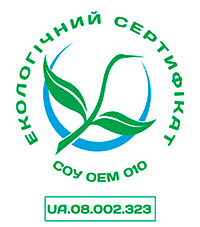 In contrast to "green" symbols, or claim statements developed by manufacturers and service providers, the most credible labels are awarded by an impartial third party for specific products or services that have been independently determined to meet transparent environmental leadership criteria, based on life-cycle considerations.
When developing ecolabel criteria (standarts for products), the focus is on the stages where the product has the highest environmental impact, and this differs from product to product.
Taking a look at textiles, for instance, fabrics have strong environmental impacts when they are dyed, printed and bleached. So, experts have designed the criteria for textiles in order to make sure harm at the manufacturing stage is reduced as much as possible. For other products such as detergents, the substances that go into the products are one of the key priority areas.
Other products, such as electronic equipment, have a very high environmental impact during their use phase, so criteria will focus on the efficiency of their energy consumption.
In addition, product-specific criteria ensure that any product bearing the ecolabel is of good quality with high performance.
Criteria are developed and revised in a transparent way by a group of experts and stakeholders.
TYPES
The International Organization for Standardisation (ISO) has identified three broad types of voluntary labels, with ecolabelling fitting under the strongest Type I designation.
Type I:
a voluntary, multiple-criteria based, third party program that awards a license that authorises the use of environmental labels on products indicating overall environmental preferability of a product within a particular product category based on life cycle considerations
Type II:
informative environmental self-declaration claims
Type III:
voluntary programs that provide quantified environmental data of a product, under pre-set categories of parameters set by a qualified third party and based on life cycle assessment, and verified by that or another qualified third party.
Further information (downloads)